Music is a piece of art that goes in the ears straight to the heart.

I sing, play the flute and the piano (and a wee bit of guitar). Music has always been the biggest passion of mine, ever since I was a little girl. And with my choir, we recorded a album when I was about 8 years old. Still got the tape (yes, I'm that oldschool).
But when I joined the Music, Dance and Drama School from the age 16-19 I started taking it much more seriously. We learned how to compose, arrange and really understand everything about this passion I've had since childhood. It was three magical years I will never forget.
It's fun to see so many of my fellow students from the school succeed as famous musicians and pop artists. Both in Norway and internationally.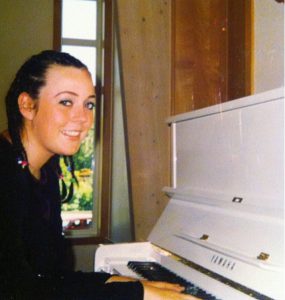 My original plan was to continue studying les musiques and become a composer. I even wanted to make a symphony from the life of Jesus, -I was very inspired by Hector Berlioz' piece "Symphonie Fantastique". Why Jesus? Probably beacuse the stories from The New Testament really are quite fascinating.
But fate wanted it otherwise, and led me to take another direction and I chose to study The History of Art instead, and kept music as my hobby.
I've later started to sing classical and joined different opera choirs in Oslo. I've been a part of productions like La Traviata, Carmen etc. I really love classical music and opera. These genre, (and rock -especially from the 70s) are without a doubt my favourites.
I find it hard to discribe what genre of music I do. It changes with my mood. Even though I still like to sing classical, I do sing and play a lot new age, pop and folk. But just get me a piano and I will be happy. The piano is the best meditation for me.
Where to find my music
Stargaze on iTunes