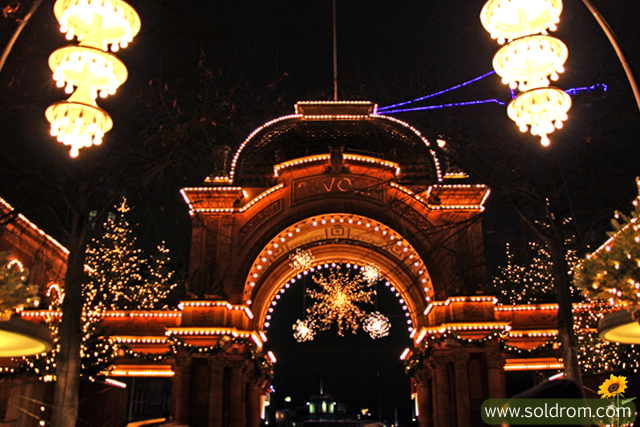 If you are in Copenhagen in November or December, do not miss the chance to see Tivoli's Christmas Gardens. With all it's lights, Christmas markets and entertainment. And yes, all the carousels and rides are open during this event.
From mid-November Tivoli opens their big gates and welcomes you, and really helps you get into a Christamas mood. It's the 21st time Tivoli makes there Christmas event, and I was at the first one, sometime in the 90s. Unfortunately I don't remember it, but I've heard it gets better (and bigger) every year.
Also read: Christmas in Tivoli 2012
To me, Christmas in Tivoli is a tradition I can't do without. There are different themes each year, and now it was «Alpine village» as well as last years big hit «Nordic Christmas», that were shown. The whole area (all 1200 squares) are decorated with small wooden houses (selling all sorts of Christmas decorations, food and of course «gløgg» (mulled wine).
The kids can see Father Christmas (call him Santa if you like), and meet his reindeers. In the Pantomime Theatre you can visit Santa and tell him what you want for Christmas. He will also sing Christmas carols and tell you amazing stories.
The Nutcracker Ballet is shown (as usual) at the Tivoli Concert Hall. There are different happenings every day, so make sure to check your program. Also, this year I got to see the Christmas Illumination Show on the Tivoli Lake. This was amazing. And by that I mean AMAZING. The music was from The Nutcracker and the lights as well were inspired by the story. I had to see the show twice.
For more information please visit Tivoli's site