Welcome to Kraków -One of the most beautiful cities in Europe
Kraków is one of Polands biggest and oldest towns, and is said to be one of Europes most beautiful cities. Therefor it's on UNESCO World Heritage Sites. Krakow also were the capital in Poland untill 1596 when Warsawa became the leading city.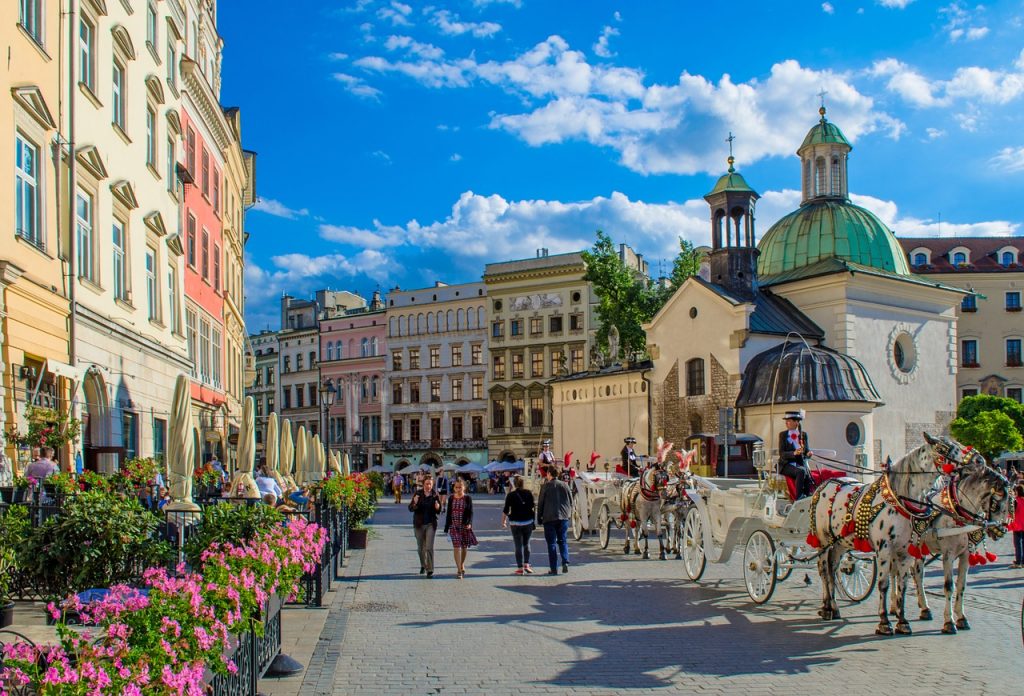 The legend of Kraków
It is said that the town is built on a dragon cave. The dragons name was Krak, but the polish name kruk, means raven. So it's said to believe that Kraków meant «the place with many ravens». I but I must admit, I like the dragon version much better!
There is evidence showing settlements there since 20,000 BC., and became the capital in 1039. In the 12th century Krakóws library and Cathedral School was considered the best in Poland.
ALSO READ: EDINBURGH -THE HEART OF SCOTLAND
What to do in Kraków
In the old town, Stare Miastro, there is much architecture from the renessaince, and some gothic and baroque. There are palaces, churches, mansions that shows how important and amazing this city was.
You can see there was much wealth when you the architectural details on the building, the coloured glass, sculptures, paintings and interior. Top quality all the way.
When you walk in the streest of Kraków you feel this. It's very connected with it's history and there is so much to see.
Kraków also have many fine restaurant, we veen found a Harry Potter place! Kraków i also very close to another big moment in history, you can og to Auschwitz (an hour with bus). Or you can see Kazimierz whith its Jewish heritage that is very interesting. The synagogue of Remuh, for example, was built in 1557.
Shopping! There are big shopping centers and the polish prices we liked very much. I got two handbags for the price of almost nothing! It's the same with shoes. Poland is a fun place to og shopping.
Other places I would recommend is:
The Cloth Hall
St. Mary's Church,
The flea markets (Sundays)
Dragon's Lair with a sculpture of a dragon that breaths fire.
The Royal Way (through the old city down to Wawel Castle.
Wawel Castle
Wawel Cathedral
Schindler's Factory Museum
MOCAK -Museum og Contemporary Art
River Cruise
Photos from our trip to Kraków