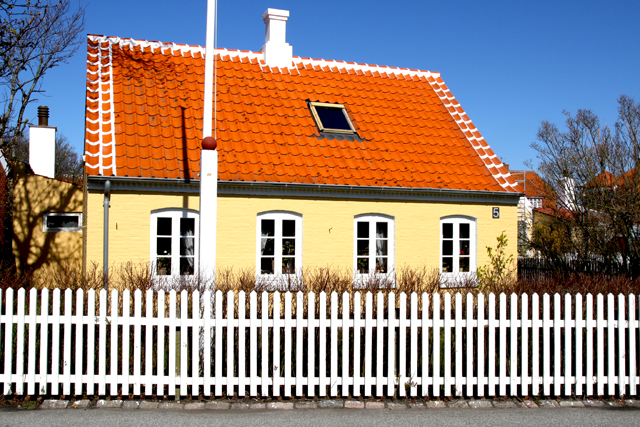 Skagen or as it's known in english -The Scaw, is Denmark's northernmost town. Skagen is a very beautiful, little danish town. A typical Skagen house has a red tiled roof with white trimmings, yellow-plastered walls and a white fences. Just like the one on the pisture above.
A video I made of Skagen (poor quality)
The settlement began in the Middle Ages as a fishing village, renowned for its herring industry. Thanks to its seascapes, fishermen and evening light, towards the end of the 19th century it became popular with a group of Impressionist artists now known as the Skagen Painters. The painters included the Swedes Oscar Björck and Johan Krouthén, the Norwegians Christian Krohg and Eilif Peterssen, and the Danes Karl Madsen, Laurits Tuxen, Marie Triepcke Krøyer Alfvén, Carl Locher, Viggo Johansen and Thorvald Niss. Visit the Skagen Museum to see some of the most famous artwork from this era.
At Grenen (on the Beach) the two seas meet, the Baltic and the North sea, Also one can enter the lighthouse if you want to have an amazing view (who doesn't?).