Like I've said before, making your own organic and animal friendly cream is really easy to do. This night cream has a wonderful scent and feels really good on your thirsty, winter skin.
This night cream might feel much heavier than the day cream, which it should. Put it on before you go to sleep at night, and wake up in the morning with a happy face.
To help the creams to stay fresh longer keep it in the refrigerator. You really can't make to many mistakes with this, as long as the oils and water have the same temperature when you mix them together.
Here's my recipe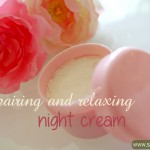 Diy: Repairing Night Cream
2014-11-10 10:50:37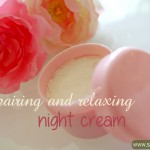 Ingredients
1/4 cup shea butter
1/4 cup organic sweet almond oil
1/4cup organic jojoba oil
1/16 cup organic coconut oil
1/16 cup beeswax pastilles (for a vegan version, use carnauba wax)
1 cup distilled water (I used rose water)
1/2 cup organic olive oil
1/4 tsp vitamin E oil
8-15 drops of essential oil (lavender, rose, jasmin, whatever scent you like)
Instructions
Blend the oils together in a stainless steel or glass saucepan, and warm on very low heat; the oils should be warmed through, but not be allowed to really heat up. then add the wax pastilles until they've melted completely.
Take your distilled water and the aloe vera gel, and combine them gently in a bowl. And add it to the heated oils (make sure everything has the same temperature). Mix it in the blender untill it has a white, creamy finish (it should thicken a lot). When this is done you'll add the essential oils and E-vitamin.
Notes
What you need
Measuring cups
Measuring spoons
rring implements Glass or stainless steel bowls
Glass or stainless steel saucepans
A double-boiler
A blender or food processor
Clean jar
Soldrøm https://soldrom.com/
Kommentarer
Kommentarer